Patricia's Story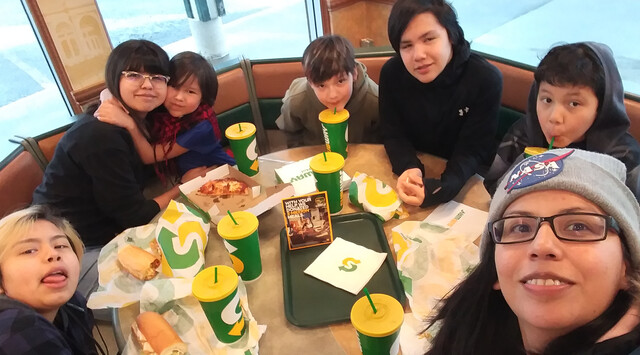 You don't always get to choose your family but Patricia was glad she could. There were no doubts in her mind when she decided to care for her ex partner's son, Jon.
Jon's early life was spent moving back and forth between cities, homes, and caregivers. When Jon was 3, his biological mother went to jail. Jon's father and Patricia raised Jon with his three half-siblings. Two years later, when his mother was released, Jon went back to live with her.
Jon's mother kept in contact with Patricia. They were able to see each other through video calls and Patricia was always sent photos. Until one day, the contact stopped.
Jon had been placed into foster care. The Family Centre was trying to find permanent placement for him and contacted his father, Deon. Unfortunately, he was not healthy enough to care for Jon. At this time, Patricia was no longer involved in Deon's life. His sister was able to reach out to Patricia and let her know that Jon was looking for long term care. 
When Patricia heard the news about Jon she had mixed emotions. "I was just happy to know where he was because we hadn't heard about what was going on. I was also worried about how he was and what he went through." Patricia wanted to care for Jon so that he could grow up having a connection with his siblings. There was lots of anticipation to see their brother.
The Family Centre organized a family group conference. Jon had developed attachment issues and anxiety when it came to meeting new people. Patricia knew this going into the conference. "I was so nervous because I didn't know if he was going to remember us." She felt relieved when Jon recognized his siblings. "The conference went really well considering he had witnessed a lot of conflict."
Patricia was surprised when Jon decided to move to her home in BC sooner than anticipated. She was nervous that he would get overwhelmed. She took time off of work to tend to his needs and didn't want to rush Jon into any sudden changes such as school. "It's emotionally draining but it's been well worth it. Jon has always been one of my own kids."
Since their reunion, Patricia feels more complete. "I did have a lot of regret letting him go the first time. I'm hoping we can be there for him now and let him know we're going to be there for him for his whole life. Not having that connection was hard."
Moving forward, they are excited to adjust Jon into his new life. "I'm hoping that Jon feels safe, happy, and loved. I want him to feel like part of the family." Patricia also hopes that he can still have a connection with his biological parents.
Read more inspiring stories here
Recommended The Family Centre resources that can help you live a healthier, connected life: