Blake's story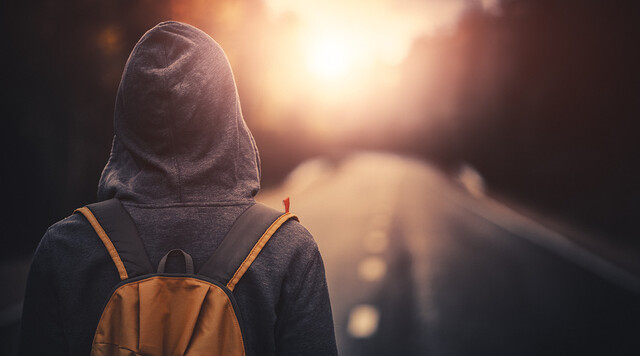 The strong rapport between Blake, Nick, and David is so obvious from the moment you meet them, that it is surprising to learn that they recently celebrated only their one-year anniversary as a family. Blake's dream of having two dads will soon be official as Nick and David are in the final steps of adopting Blake.
In his 17 years, Blake has been through a lot. The Family Centre and Child and Family Services have supported Blake since he was 3 years old and went to live with his grandmother because his mother struggled with homelessness and illegal activities. After Blake came out as gay, his relationship with his grandmother deteriorated to the point that he was first placed in foster care and later in a group home. The Family Centre and Child and Family Services kept looking for a permanent placement for Blake.
Meanwhile, Nick and David were planning to adopt a child. "We had thought about adopting a younger child, but when I saw Blake's photo and profile on the adoption website, I just got a feeling that he was the one. Nick agreed, so I called the next day to start the process," David explains.
They got to meet a year later. "We were first told that because Blake was already a teenager, it may end up being more of a mentorship, big brother type of a relationship. After our second get-together, we started a group chat that just kept going, and it was obvious that we were going to adopt Blake," Nick says.
"The initial meetings went so well that they agreed to start having overnight visits. Eventually, Blake moved in with David and Nick," John, a family intervention generalist at The Family Centre, remembers.
"John has been so helpful throughout this process. He's been our ally and champion behind Blake all along," Nick says. "John is a great listener and very kind. He's helped me in many ways over the years, even to move," Blake adds.

In just a year, Nick and David have seen a big transformation in Blake. "He is more open, assertive, and confident. He's even holding himself differently because he's more comfortable with himself," David says. Nick continues: "When we met Blake his big goal was to finish high school. Now he's focused on school and planning his post-secondary education and career. He has more goals for his life. I like to say Blake is like a beautiful flower that hadn't been watered in a while. Now he's flourishing and thriving. I could just go on and on about how he has changed."

"Without Nick and David, I would probably still be in the group home, where I was bored all the time, or maybe even on the street. Nick and David are so supportive," Blake says. As for his hopes and plans for the future, Blake says he enjoys photography and his goal is to attend photography technology program at NAIT after he graduates from high school this year. Blake's photos were recently displayed at the EXPO Centre.

"Nick and David are great parents. They are very supportive of Blake's education and I've seen Blake thrive in this past year," John says.

"Sometimes at work, I crack up just thinking about something Blake has done or said. We have lots of inside jokes. We all love cooking and sitting down together for a meal, going to the dog park with our two dogs, and the farmers' market in the summer," Nick describes. The trio is also planning three trips across the country, so they can introduce Blake to his new extended family.

"Sometimes I look back and reflect, thinking, 'This is my son. He hasn't been in my life his full 17 years but he is my son and it feels right'," Nick says. David adds, "In our adoption training we were warned how difficult and lengthy the adjustment can be, but it has been the complete opposite. It has been so positive. We make a pretty good family."

Nick has a message to families who are thinking about adoption: "I encourage you to keep an open mind and consider an older child. Having a teenager in our lives has been such a rewarding experience. Even though we didn't have him for the first years of his life it just feels right and that he's supposed to be with us. We couldn't be happier. We can't even imagine our lives without Blake."
The Family Centre strives to build healthy families in healthy communities. Our partners and funders play a key role in this. Get to know them here
If you would like to know more family resources that we offer, view this page.