Our Indigenous Support Services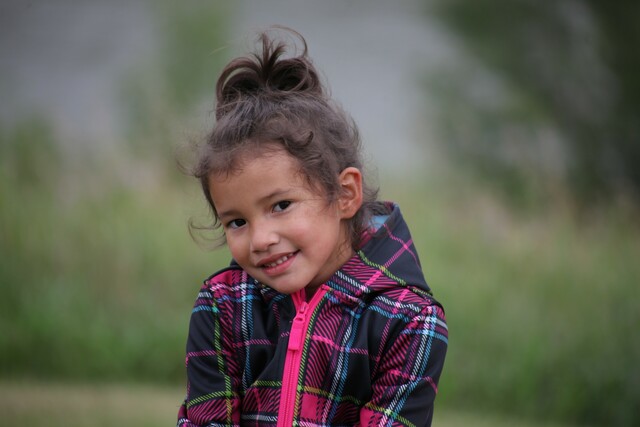 The Family Centre is committed to working towards reconciliation by becoming a wicihtasow (ally). Read on to learn how we are developing our Indigenous practice and the services available to our Indigenous service users.
We have been developing our Indigenous practice to address the impacts of historical trauma through partnership with IRM Research and Evaluation Inc, which includes Dr. Leona Makokis, Dr. Ralph Bodor and their wisdom team. We are committed to enhancing our practice by increasing our knowledge and understanding of the history of Indigenous people, combined with opportunities to experience ceremony, traditional teachings, and activities.
We have been taught that there is no healing without ceremony. Our hope is that we all become allies, addressing the impacts of colonialism and the ongoing forms of colonization, including systemic racism and oppression.
In the nêhiyaw worldview, health and wellness are understood as miyo-pimâtisiwin or living the good life through seeking mental, emotional, spiritual, and physical balance. miyo-pimâtisiwin is a way of being and a commitment to live and practice in accordance with nêhiyaw ceremony, teachings, and values. We understand that meaning is developed through the teaching and values embedded in Ceremony, Circle Processes, and Relational accountability.
As such, we support our Indigenous service users to reconnect to their culture and participate in ceremony. The 5 primary strategies of how our Indigenous story has unfolded at The Family Centre are:
1. Cultural activities
Our service users and employees can access frequent ceremony and teachings, such as sweat lodges, pipe ceremonies, smudging and brush downs, medicine picking, and regalia making. Ceremonies are provided during the day, in the evenings, and on weekends. The Family Centre's Knowledge Holder facilitates ceremonies and supports staff to know their role when participating in ceremony.
2. Indigenous Knowledge Holder
Our Indigenous Knowledge Holder further supports our employees and service users through ongoing education and experience, and increased connections to Indigenous communities, Elders and other community services. Our Knowledge Holder has many gifts and ceremonies to share, such as sweat lodge teachings, pipe ceremonies, Sundance teachings, protocol, local medicines, and local ceremonies.
3. Omanitew teachings
Our goal is to ensure every employee has an opportunity to experience ceremony through Omanitew teachings. This experiential learning opportunity includes appropriate ceremonies and protocols facilitated by a team that includes Indigenous Elders and Knowledge Holders. To date, we have had over 200 employees participate in the Omanitew Ceremony.
4. Indigenous Advisory Committee (IAC) and First People's Circle (FPC)
IAC has been running since 2018, based on feedback from focus groups with our Indigenous staff and as a response to the Truth and Reconciliation Calls to Action. This committee has a formal mandate to focus on Indigenous history, culture, ceremony, protocol, teachings, and available research to bring recommendations to senior leadership.
FPC is a space for all Indigenous employees of The Family Centre to connect and share their experiences, wisdom, and feelings as Indigenous staff.
5. sîtôskam iyiniwatisiwin (Supporting an Indigenous Way of Being)
Starting in July 2022, as per a recommendation from the Indigenous Capacity Evaluation, we (in partnership with IRM Research & Evaluation and Boyle Street) started developing an Indigenous Practice Framework, which will be a foundational framework for the organization. We held four circles in a ceremony – two Elder/Knowledge Holder circles, one practitioner circle, and one client circle.
The framework uses the medicine wheel as the basis for understanding of well-being. Examples of preliminary learnings include:
Mental: teaching and learning: being family and community based
Emotional: reconnecting the spirit, hearing the language, drumming, singing, rattles
Spiritual: supporting and participating in ceremony, medicine picking and teachings-based practice
Physical: physical space, policies based in teachings, the smell of medicine present, and signs in the language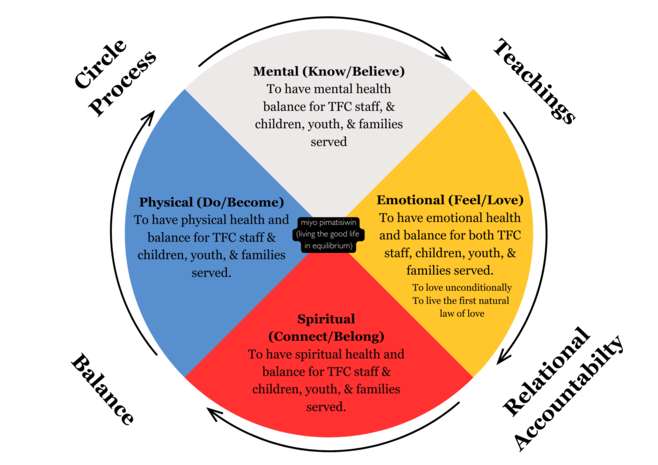 As reconciliation is a lifelong process, we continue to engage with Indigenous communities across Alberta, including Elders, Knowledge Holders, and community members to ask how we could better serve Indigenous peoples.
Please ask your worker if you have questions or are interested in participating in ceremony or teachings.