Blue's Story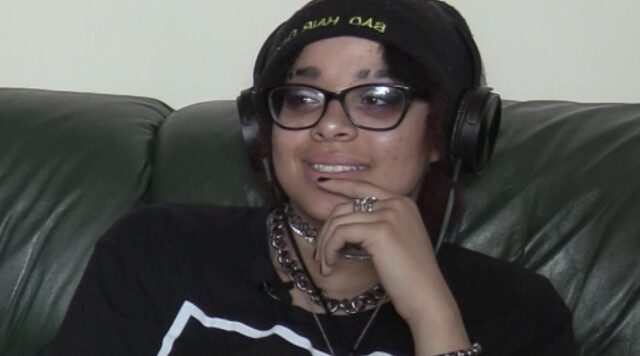 When Blue was in the fifth grade, she and her mother, Emily, moved to the Spruce Avenue community. It wasn't easy for her to leave her current school as she didn't get to see her friends as often as she had hoped. Blue recalls that time as "tough" and "really disappointing."
Switching schools made Blue feel confused and angry. She went through many personality changes as she tried to distract herself from the move.
When Blue started grade seven, she was suspended for lashing out and for her use of language. She was then introduced to Philiana, the school's mental health therapist with The Family Centre. "I went in very untrusting and kind of closed off," admits Blue. "She would ask me questions, and I would answer it with a question kind of thing." Blue's full trust in Philiana kicked in when she asked her about other students. Philiana would not discuss any other student with her. Blue then knew she was safe and felt comfortable with her.
When Blue joined the school's cheerleading team, she started seeing Philiana more frequently. Before her first competition, she felt terrified of performing in front of a large crowd. Philiana helped Blue work through it. Now, she continues to help Blue work on her self-love. "We made an agreement for me to stop overthinking. It was an overthinking when looking in the mirror," says Blue. "I feel like I've been more comfortable recently because of it. I don't care what anyone else thinks of me anymore."
"I hope that she can continue believing in herself because I believe in her potential and skills to achieve so much in her life. Her actions show how capable she is in taking on the leadership role," says Philiana.
Since the COVID-19 pandemic, Blue continues to connect with Philiana through Instagram. With the help of Justine, the school's Success Coach, Philiana has dropped off groceries for Blue and Emily. As restrictions began to decrease, Philiana and Justine have been able to take Blue out to see her friends. They spend time at the park so that Blue can socialize and maintain her friendships during this time.
Over the past few years, Blue has taken up drumming and plays with a few friends in a band. As she works on her stage fright and self-confidence, she hopes to one day play in front of millions of people.
If you can relate with Blue in any way, here are some recommended resources to help you: