Jessica's Story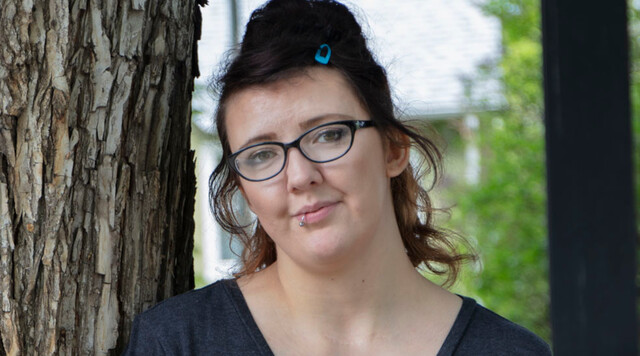 At the very young age of fifteen, Jessica was exposed to significant trauma. After being sexually assaulted, she resorted to drugs, alcohol, and self-harm. Jessica tried counselling and medication. Yet, nothing could take away her depression, anxiety, and fear. On top of this experience, Jessica had to grow up fast. She took care of her mother, who had polycystic kidney disease, and her diabetic father. Her father also had anger issues and implemented improper discipline techniques.
Jessica didn't know how to tell her family what had happened, so she ran away. She then moved towards unhealthy relationships that she feels resembled her father. After losing many children before birth, Jessica finally had a daughter. She ended up leaving her daughter's father because of domestic violence.
But, Jessica continued to experience domestic violence in another relationship. During this relationship, she was not allowed to get medical attention. Jessica now lives with visible scars and an ongoing back injury. When her son was born, Jessica was alone in the delivery room. Shortly after his birth, Children Services got involved and her kids were taken away.
Jessica found herself in a very deep hole. She had developed PTSD from the severe abuse. She continued to have flashbacks, nightmares, and shakes. Children Services wanted Jessica to have her mental health under control. She was then introduced to Monika, a Mental Health Therapist at The Family Centre.
"When I first started with her, because I was still in the relationship with my son's dad, I was very closed off. I didn't really want to talk because I was afraid of the repercussions," mentioned Jessica.
The control she was under made her feel like she wasn't able to open up. Then, Jessica gained the courage to leave the abusive relationship.
"Once I left him, I was able to open up a little bit more, and Monika noticed that. She also noticed that I was turning my life around and becoming a completely different person."
Since starting counselling, Jessica's life has changed in many ways. She was able to get her kids back, and she is in a healthy and happy relationship.
"I never thought that I would be able to find a healthy relationship, and so when I found Josh, it was a major breath of fresh air."
Josh helps support Jessica through her trauma and PTSD attacks. He spends time with Jessica outside as she is afraid to be outside alone. Being in nature helps Jessica feel grounded and relaxed.
Her relationship with her mother and sister has also improved.
"I'm able to spend a lot more time with them. When I was in the relationship, I wasn't talking to them every day. I didn't have the opportunity, or I couldn't open up to them."
Additionally, Jessica is receiving supports from a Roots and Wings worker. They discuss developmental stages and techniques for raising a newborn. They have also determined Jessica's Adverse Childhood Experiences (ACE) score. Jessica understands that her children will also have high ACE scores. She wants to eventually get her daughter into counselling with Monika.
For now, Jessica works towards minimizing her PTSD attacks and living a peaceful happy life with her family.
If you can relate with Jessica in any way, consider viewing the resources below: