Kassidy's Story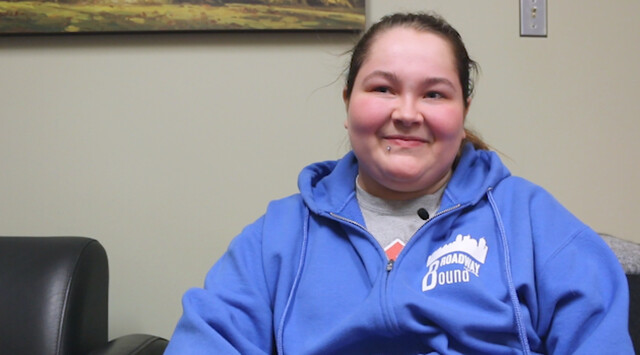 Kassidy's entire life was spent in and out of the social service system. Her parents separated three times throughout her childhood before her father moved away. Growing up, Kassidy's father had a drinking problem and she was never able to build a connection with him.
After her father left, Kassidy's mother met her step dad, who was also an alcoholic and drug abuser. As time passed, Kassidy's mother and step dad began fighting constantly. Due to the stress, her mother started harming herself and was emitted into the hospital.  
For six months, Kassidy and her siblings were in the care of her step dad. "He wasn't really qualified to watch children on his own", Kassidy shares. "It was hard, I had to really grow up fast. I didn't really get a childhood." Two years later, her step dad decided to leave the family, which put everyone through a hard time.
The Family Centre helped Kassidy's family get back on their feet. "We were able to have a place where we could share our concerns and develop a stronger family connection." Kassidy feels that The Family Centre helped her mother to mature. "My mom is a lot more stable now and provides us with things that moms are supposed to provide you with."
Kassidy then started individual counselling with The Family Centre when she turned 18. "I was quite nervous and scared because I didn't really know what to expect." Going in, Kassidy had bad social anxiety. "There were times where I couldn't even walk into my classroom because I was so anxious and nervous." Kassidy's counsellor helps her deal with her social anxiety so that she is confident about going to school. "I've grown a lot with Heather. She's helped me fight negative thoughts."
Now, Kassidy feels more comfortable interacting with people.  She loves to express herself through musical theatre. After her third show, Kassidy was ecstatic to get her first part with lines. Her favourite part of theatre is being on stage and making people laugh.
"It doesn't come easy learning new skills, new strategies to deal with anxiety. It's definitely not easy and it takes work. I feel like counselling made it a lot less scary. They gave me something to work towards."
Kassidy's personal relationships with her mother and boyfriend have improved. "If you don't believe in yourself or if you aren't willing to try to do the work to put in, it won't get better." She plans to continue growing the strategies she learned in counselling.
No matter what you are going through, The Family Centre is here for you.
Here are some resources that may help you live a happier and healthier life:
Mental health resources and tips on our blog