The Family Centre is Certified in Trauma-Informed Care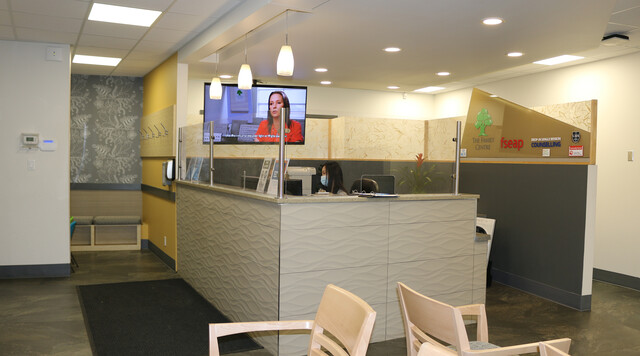 We're excited to share that Community Connections has certified our agency in the Creating Cultures of Trauma-Informed Care model. Lori L. Beyer from Community Connections says,
"The culture at The Family Centre exudes care, kindness and support."
The five core values of trauma-informed care are safety, choice, trustworthiness, collaboration, and empowerment. Using these values as our lens, we have made many improvements to both service delivery and administrative practices over the past few years to be certified. These changes build upon our practice focused on helping clients heal from trauma and ensuring that our staff have the support and tools that they need to do this work.
You might have noticed some of these improvements, including:
Our counselling services are available on a drop-in basis; no appointment needed (removal of barriers)
Additional opportunities to share voice and provide feedback
Enhancements to our reception area to make the space more welcoming, private, and comfortable. Improvements include guest Wi-Fi, artwork, and new furniture.
Intake forms and processes modified to reduce unnecessary repetition and duplication of having to re-tell your story
Enhanced purpose and role of Indigenous Advisory Committee and creation of First Peoples Group for Indigenous staff to have a voice and share experiences
Increased training for all employees and opportunities for job shadowing for all new hires
While we're thrilled with the certification, there are areas to still work on. For example, we will explore how we can more consistently incorporate skill development into each session with our clients, specifically related to managing the effects of trauma.  Our trauma-informed care workgroup will continue to support, strengthen, and further develop our agency's culture of trauma-informed care.
Community Connections, of Washington, DC, is regarded as national and international experts in the areas of trauma-specific and trauma-informed care.  Community Connections developed Using Trauma Theory to Design Service Systems and a trauma-informed services model, Creating Cultures of Trauma-Informed Care (CCTIC), with a host of companion tools such as a programmatic self-assessment and planning protocol, a fidelity rating scale, and a score sheet.  Using the extensive CCTIC fidelity rating scale, Community Connections evaluates and rates organizations as trauma-informed.