Top 4 Tips for a Healthy Family Environment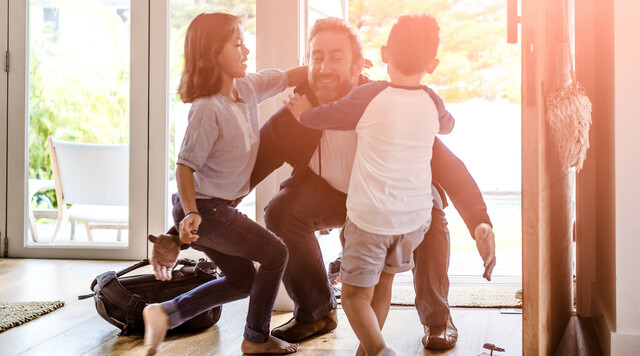 Talk to any busy mom or dad, and you know that raising a family can be a challenging undertaking. We usually develop our family structure based on how we were raised. It's often referred to as our "normal" and the only thing we know. These behaviours may or may not contribute to creating a healthy and loving family.
Is my family functioning normally?
Where do parents learn how to parent? Other than our own family, alternative examples often come from television. Are these healthy families? What factors contribute to an environment where children and adults are both happy and feel loved and cherished?
First of all, families have a strong commitment to each other. They promote the family as important. The relationship between the two adult partners takes precedence over the children because children aren't capable of carrying the emotional needs of adults. It doesn't mean that one parent allows the other parent to take all of the power; it just means that there needs to be a commitment to making the marriage healthy and stable.
Our counsellors responsible for managing our parenting workshops have compiled their top recommendations to help you start on the path to creating a healthy, functioning family environment:
1. Play
Within this structure, the adults PLAY with children and each other. They take time from work and other commitments to celebrate birthdays and holidays and do activities together as a family. The family may choose to play board games, baseball, or go swimming.
2. Eating Together
Eating together is extremely significant and brings the family together. This can be difficult when most families are engaged in activities. Families should plan for at least 4 sit down together meals a week and work towards creating weekly rituals together. You may want to try something like going for a family swim on a Sunday afternoon and then having a BBQ. These are the small things that keep a family healthy.
3. Open Communication
Communication is extremely important. Adults listen to children and children listen to adults. A 5-year-old can have an opinion! No opinions are wrong, no question is inappropriate; there is safety in communicating. And communication is not using abusive language. If you swear at your children, they will swear at you (and probably other adults too). As parents, you can model how to talk respectfully to each other, how to listen, how to stay calm, and how to value other people's opinions.
Talking together as a family is a great way to practice healthy communication skills. When you are considering your next family holiday, plan a family meeting and listen to each other's ideas. It is ultimately the adult's final decision (based on safety, finances, etc.), but allowing children to have a say is very powerful.
4. Working Through It Together
A healthy family also provides the opportunity to practice coping strategies when things go wrong. Family members can work through difficulties together. This doesn't mean that family members swoop in and rescue each other, but turn to each other for support and guidance. Family members also offer encouragement and express affirmation to each other on a regular basis. They might say, "I admire you for that!" or "Your help is so important," or "You mean so much to me."
By saying positive things to each other, family members develop a strong sense of self and create an environment where they feel respected for their individual differences. Family members are safe to try new things, to fail, to be wrong, and to have faults. Members can build trust by knowing that they are loved regardless of mistakes. This is often strongly connected to a strong sense of spiritual well-being. Families can work together to build a strong moral foundation of respect, kindness, and love.
Seek some outside advice! The Family Centre offers some wonderful parenting workshops where parents can share their challenges, exchange information that is helpful, and develop skills to create healthy families.