Trista's and Angela's Story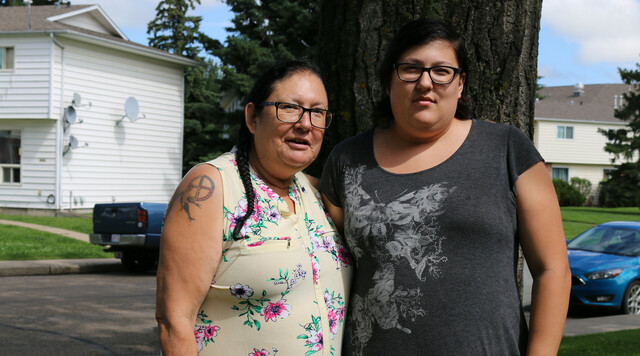 Trista was shocked the day her oldest sister called her from prison. She asked Trista to care for her baby, Briella, when she would be born. "I knew that Briella would be taken, and my sister would be sent back to the prison after she gave birth. So, I wanted to get Briella and bring her home so that way she didn't end up in foster care."
Angela is Trista's and her sister's mom. She was hesitant at first because she knew it would be a lot of work for Trista.
"She couldn't do it all on her own, and I knew she needed help," says Angela.
After giving it more thought, Angela decided that she would help Trista raise Briella.
Briella's mom planned to care for her when she got out of prison. But, Trista and Angela ended up gaining permanent guardianship.
They worked for eight months to get Briella. "It is stressful going through all that process to send the paperwork and everything. Having to get everything they request you to get," mentioned Trista. But, Angela felt confident, "I knew the steps to take in being reliable, doing things properly, and getting ready for the visits, and I've shown Trista that."
Along the way, they also worked with Monica, a Kinship Support Worker at The Family Centre. Monica established a trusting, safe, and steadfast relationship with both Trista and Angela. "She's a very good woman, she's beautiful, she's happy all the time, and she brings that in here," Angela revealed. They view Monica as a good friend and not just a worker. Angela recalls the time Monica helped them get their truck running so that Briella could make her appointments. "She's very helpful. She's helped us a lot."
Trista and Angela enjoy having dual guardianship over Briella. Trista finds the support from her mother great as Angela knows what to do when Trista is unsure. Angela likes having that connection with Briella from both sides. They are able to support each other when one of them starts to feel tired. "It's not always perfect, but you've got to have patience, you've got to be there, you've got to want to do it so it was a very happy moment when we got her," says Angela.
Being diagnosed with polycystic ovarian syndrome, Trista will be unable to have children without extensive and costly fertility treatments. Briella has given Trista the opportunity to raise a child, "I'm raising her like she's my own daughter." Briella has also helped Trista come out of her shell, "I'm usually a very shy person. I don't like going out anywhere. I don't like talking to people and stuff like that. I get nervous, and anxiety starts to build up and I just want to get away and go to a place where I'm by myself, but with her, I can't do that."
For Angela, having Briella brings back good memories of raising her own children. She gets happy when Briella gives her kisses. She missed all the affection her children used to give when they were younger.
After getting out of prison, Briella's mom was able to spend some time with her. She introduced Briella to some of her culture before passing away. At her mother's wake, they had a drumming circle. As Briella was still very young, Angela was surprised that she didn't freak out but rather enjoyed the loud drumming. Trista and Angela both knew it was important to keep Briella connected.
Before the pandemic, Briella was able to attend dances, feasts, and even a naming ceremony. They continue to teach Briella from the comfort of their home, "My mom bought her a jingle dress. I put pow wows on the TV from YouTube and let her dance, practice, and get familiar with it. If she's upset, I'll put that on, and she's instantly calm."
Trista and Angela feel as though Briella has lit up their lives.
If you can relate with Trista and Angela in any way, consider viewing the resources below:
Blog posts about Indigenous community