What to Expect at Your First Counselling Session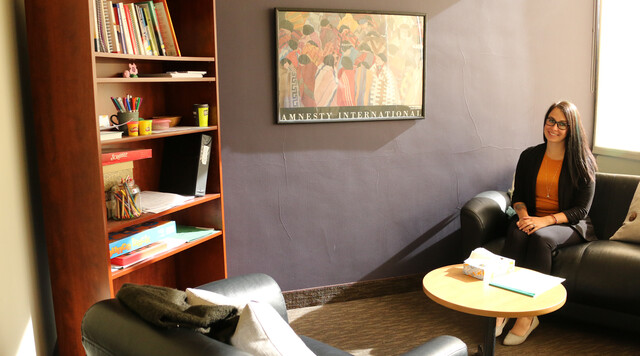 "I am nervous, anxious, and scared to attend a therapy session. I am afraid to open up. What do I even say? Do I start the conversation?"

"What if people judge me for going to therapy. People might think I am weak."

"I'm terrified to feel my feelings. I might break down."

 
Are these the thoughts that go through your mind when you think of going to a counselling session? These are all normal feelings and thoughts. Most people feel this way, too, and that is okay! What matters is that by deciding to see a therapist you've taken a gigantic step to restore your wellbeing – that, by itself, is worth celebrating.
You are probably wondering what to expect when meeting with a therapist for the first time. Don't worry. This blog post will guide you through the process.
Misconceptions about therapy
Therapy is all about relationships and creating conversations with people. It is a space where people can talk about their life events and struggles in a safe and empathetic way.
Some people may think that going to therapy means they are weak or flawed. Some think that therapy is only for treating mental health disorders, not general growth. These misconceptions often discourage people from making counselling appointments.
Here are some misconceptions:
"I might talk the whole time" – Often in movies, therapists sit down, nod, and write notes. Most therapy sessions may not look like this. They are more interactive and people get to have active conversations. It is a space where people listen to each other and give time for the other person to share any life event they are comfortable sharing.
"With conversations, you start to build relationships. We ask people's perspectives and respect them. We explore their past successes and ask future-oriented questions to help them make positive changes, " shares Lorian Gelink, The Family Centre's mental health therapist and intern mentor.
"I might be seen as a weak person if I go to therapy" – This can be one of the biggest issues why people are reluctant to seek help. People are often afraid of how others think of them. Most people feel this way and that is normal. The reality is that most therapy sessions help people deal with ordinary, everyday problems. Working on self-esteem, improving relationships, learning about one's core values, and dealing with stress or grief are all examples of common issues people talk about in therapy.
Sometimes, we need support and that is okay. That doesn't mean we are weak. Often, we feel stronger and more capable because we left our comfort zone. This is a sign of strength and growth.
"I might be judged at my first therapy session" – Therapists avoid judgment. Carl Rogers, one of the most influential psychologists, designed a concept called Unconditional Positive Regard. This means being accepted by the therapist without judgment. Here at The Family Centre, we acknowledge people's perspectives and respect them. We understand and recognize that most people experience struggles and trauma. This is why we focus on people's strengths and collaborate with them to help them think more clearly.
Lorian Gelink adds, "We create a safe space by informing them what they can expect in a counselling session, and most importantly -  we help them make empowering choices. They are the experts of their lives, and therapists are here to support their process."
"Therapy is so expensive" – This can be true, but there are free and low-cost therapy clinics in Edmonton. At The Family Centre, your first counselling session is free. We ensure that money will not be a barrier when accessing mental health supports. That's why we have subsidies available for follow-up sessions.
What happens in a first counselling session
Different therapists have different ways of handling therapy. They have different personalities and styles. Although this is the case, there are common themes of a first counselling session.
Upon arrival
When you arrive, a receptionist welcomes you and gives you paperwork to read through and sign. At The Family Centre, we always hand out a welcome letter and a counselling consent form. These documents include details on confidentiality, neutrality, and more. In online and over-the-phone counselling, the documents are sent via email before your appointment so you can fill them up beforehand. This makes the session focused on attending to your needs.
During your session
After filling up the paperwork, you'll meet with your therapist. This is a moment to get to know each other. The therapist may ask the following questions:
How are you feeling and doing?
What brought you to therapy?
What are you hoping to achieve in this session?
Understandably, it might be hard to open up at first. That is alright! Therapists acknowledge and accept that this is a process. When you are ready, try to answer these questions as truthfully as possible to benefit your recovery.
Counselling is an active conversation. So, you get to ask questions too. You can learn more about their therapy style and see whether their style works for you.
Here are some questions you may want to ask your therapist:
What kind of therapy do you practice?
Could you tell me more about your approach in connecting with clients and in your sessions?
How will you make sense of the personal issues I may present to you?
After your session
You've done it! It takes a lot of strength to book and attend that first counselling session.
Please take a moment to congratulate yourself for going to therapy, no matter how it turned out. Then, check-in with yourself. At The Family Centre, we ask people to fill up a Session Rating Scale that asks them how they feel after the session. This is a good way to reflect on how you feel before and after the counselling meeting. Here are some questions you can ask yourself:
How do I feel about this session? How do I feel before and after my session? What are my thoughts on going to another session with this therapist? Did I feel comfortable talking with the therapist, or should I try with a different one?
If you can, write your thoughts and reflect on them. Your therapist might have asked you to journal or practice deep breathing to ease any uncomfortable feelings. If possible, allot a time to do these.
Many people only attend one counselling session because that can be enough to help you think more clearly.
Final thoughts
"Therapy is not about the fancy tips and tricks. It's about relationships. It's about active and compassionate conversations," says Lorian Gelink.
Realize that therapy is an individualized process, so not every therapist will be the right fit for you and that is okay! It's normal to meet with other therapists before you can find the right match. If you feel safe and feel like you can trust the therapist, you most likely found your right therapist.
Lastly, this is your healing and recovery journey. You take the wheel on this one. Therapists, families, and friends can be your support system. They can give you advice and options on how to fix life's challenges thrown at you. But you decide which direction, choice, and route to take. If you fail, that's okay. You can get back up and try again. What matters is you keep fighting and you keep in mind that you are not alone.
For more information about The Family Centre's counselling, click here or give us a call at (780) 423-2831.
For goal-oriented counselling, visit this page.
Video: Normalizing Mental Health Counselling
Additional services that may benefit you:
Overcoming Anxiety Class
Living with Depression Class
Journey to Self-Discovery Class
Self Esteem & Assertiveness Class
Recommended readings:
How Do You Know When It's Time to See a Therapist?
When Your Painful Past Interferes in the Present