Brittany's Story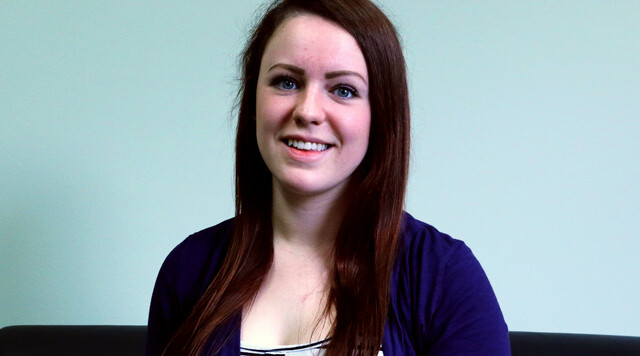 Brittany, 21, recently completed a bachelor's degree in nursing from the University of Alberta and started her career as a registered nurse. When she was in junior high, she received supports from The Family Centre.
"I had been dealing with some friends issues at school, my self-esteem and insecurities, and addictions in my family. I also wasn't getting the support that I needed at home," Brittany remembers. "Then I was a bystander at a knife fight after school. Edmonton Police Service was involved, and they notified my school. As a result, I was referred to Michelle, The Family Centre's success coach at my school. That gave me the opportunity to talk to a professional as clearly something was going on in my life."
Brittany started seeing Michelle roughly on a weekly basis. After the official commitment ended, Brittany still went to see Michelle on her own time throughout junior high.
"Michelle gave me that adult support that I needed. She completely changed my life. She helped me to figure out how I can best take care of myself.  To this day, I follow some of the advice she gave me. For example, once a week I take the time to practice self-care and do something for myself. In junior high, I was very focused and didn't give myself time to relax," Brittany explains.
"I was confident that Brittany would be OK if she kept fighting for herself. She was trying so hard, and she just had to believe in herself. It's great to know that she is still actively applying advice that we discussed all those years ago. She is very resilient," Michelle says.    
Michelle suggested various programming to Brittany, including a 14-week paramilitary program for youth. "On the first week, I was appointed the leader of the week. Afterwards, I was told that I have so much potential being a leader. I had such a hard time believing that at first, but those words really stuck with me. Ever since I have been very determined not to waste any opportunities but make my future successful," Brittany says.   
Brittany also worked with coaches Tim and Ben from The Family Centre. "Tim and Ben were almost like my big brothers. They always made me smile and have a good time. They were super supportive, and it was nice to know I had additional adult supports in my life looking out for me.  I knew that I could always contact them if I needed their help," Brittany says.
"I am very happy to have been involved with The Family Centre when I was growing up because I had people looking out for me and giving me the guidance and support that I needed. I believe my life would be very different if I hadn't received that positive intervention. I had a lot of support along the way, and I didn't get here by myself. I feel like my degree should have a lot of other people's names on it, too," she says and continues "I am so grateful for the opportunities I was given and that I have worked towards earning. I am so thankful to everyone who supported me getting here because without them I wouldn't have been able to do all the things that I have done."
"If I could say anything to youth who are now in a similar situation to what I was in back in junior high, I would say that things can and will get better. When I was 14, I felt like my world was falling apart and there was nothing I could do to fix it. Don't give up on yourself. Keep moving and take it day by day. If you need help, definitely reach for help."
If you can relate to Brittany, consider checking out these resources that The Family Centre offers:
Read more about mental health in our blog