Nataz's Story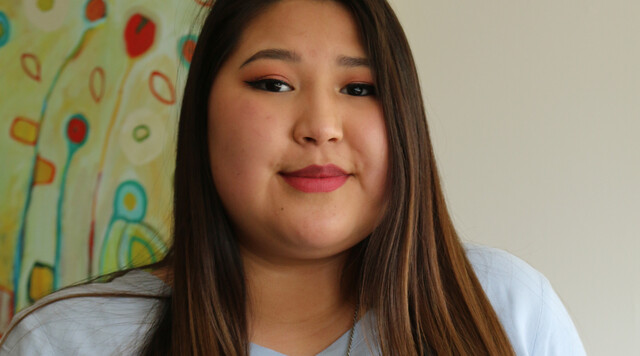 At the age of seventeen, Nataz was transitioning out of foster care and into her own place. Feeling bright-eyed, she was ready to take on any opportunity that was presented to her. A few years later, her social worker introduced her to Natasha, a youth connector at The Family Centre.
Natasha helped Nataz with basic needs such as getting groceries when she had no other way to get them. Most importantly, she helped her connect to her roots through the COVID-19 pandemic. Connecting with her culture was very important to Nataz. So, she decided to meet Sherrylynne, The Family Centre's Indigenous Knowledge holder.
Meeting for the first time over video chat, Nataz Felt nervous. But, Natasha helped walk her through the process. "When I first met Sherrylynne, I felt a little awkward. I felt like, what do I talk about? What do I ask?"
It didn't take long for Nataz to warm up to Sherrlynne, "Working with Sherrylynne has been amazing. She feels like she's my grandmother." Not having many Elders in her life that know about her culture, Nataz feels as though a door has been opened for her.
Being at home has allowed Nataz to feel more comfortable exploring her culture. "Sherrylynne has helped me dip into the culture without actually just throwing me to the sharks."
Something Nataz was never taught about in the full extent was protocol. She has now learned ways to give tobacco to get advice from an Elder or for prayer. She has even started smudging which is something she never used to do. "It makes me feel like I want to dance. I want to just learn so much so that I can pass it on to my kids if and when I have them."
Over the course of the pandemic, Nataz feels more connected to her culture. "The most rewarding part is being able to teach people about my culture if they ask me."
Nataz hopes that she will soon be able to dance in a pow wow. "It feels like I'm not just the typical city girl that a lot of my people put me as. Instead of questioning what I really am, I know for sure."
Recommended The Family Centre resources that can help you move forward positively:
Read more about mental health in our blog