Our success coach wins an award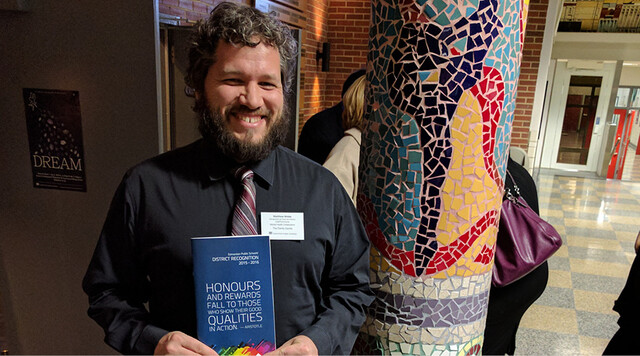 Kudos to our success coach Matt Wiebe, who won an Edmonton Public Schools' district recognition award along with the mental health collaborative team at Lillian Osborne high school.
"Thanks to the Mental Health Collaborative team, the dialogue around mental health has shifted and our students and staff speak with renewed empathy and courage," say Lillian Osborne teaching staff Davey Thompson and Lisa Beebe.
The team was recognized for their work for creating an environment that is strengths-based and hopeful, giving vulnerable students a sense of belonging. The team teaches students self-advocacy and helps them recognize and embrace their strengths. The team excels at helping students transition back to school and re-engage in their education after prolonged absences.
One student affected by both trauma and an anxiety disorder had great difficulty getting from home to class and was not able to attend school at all. The team worked with the student to develop a plan that saw them gradually attend more and more classes and they paired the student with a peer mentor. Since the implementation of the plan, the student has not missed one day of classes.
A parent of another student says, "The team continually provides great support and guidance, which is crucial for my son's growth and development. I send him to school each morning knowing that the nurturing team at Lillian Osborne is contributing to his success, not only academically but emotionally and socially as well."
Matt has been with The Family Centre since 2007. His dedication to the youth and school communities he serves has not wavered throughout his years as a success coach. Matt continues to find innovative and creative ways to work with youth and staff at Lillian Osborne and to contribute to the work of the Mental Health Collaborative Team. Congratulations Matt!
The Mental Health Collaborative is a partnership between the counselling staff at Lillian Osborne, The Family Centre, and Alberta Health Services. In addition to Matt, the team members include Jennifer Harris, Kimberly Howard, and Jennie McLester.
See other The Family Centre updates here