Trevor's story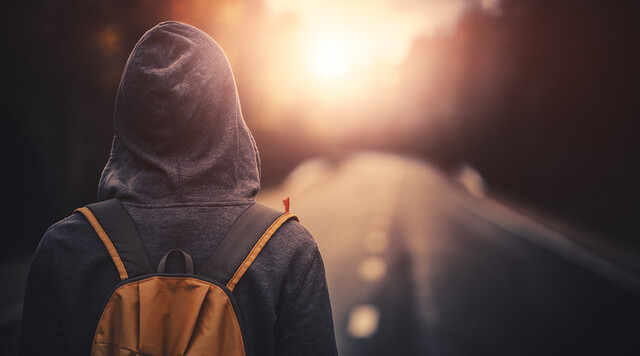 Vince and Leona had last seen their grandson Trevor when he was 12 years old and visiting them in Ontario during a summer break. After that visit, Vince and Leona had tried to keep in touch with their grandson in Edmonton through Skype. Each time they were told Trevor wasn't at home - something that they later realized was a lie.

Three years passed without contact. Then Trevor's cousin, Vince and Leona's granddaughter, learned on Facebook that Trevor had been in group care for the past year. Unbeknownst to them, Trevor had moved to a group home as there had been physical and verbal altercations between him, his father, and stepmother.

Vince and Leona immediately knew that they wanted to take care of Trevor. "We didn't want him to live in group care. Family is always family, you know?" Vince says.

Vince and Leona travelled to Edmonton to see Trevor. Leona remembers how Trevor, then 15, was when they met again: "Trevor was not doing well at all. He had temper tantrums. He wasn't taking care of his hygiene. He was on several medications that had made his weight go up."

Initially, Trevor was going to live with Vince and Leona just for the summer. Then The Family Centre organized a family group conference, which empowered significant people in Trevor's life to create a long-term plan for Trevor. They decided that Trevor would live with his grandparents permanently.

"After I learned that Trevor had grandparents who genuinely wanted to take care of him, I felt it was my job to connect this family so Trevor could have a better life. I even reached out to schools in Ontario and brought a representative to the family group conference to prove that Trevor could attend a school that would suit his needs in Ontario," Richie, a family intervention generalist at The Family Centre, says.

Now Trevor has lived with his grandparents for two years. Vince and Leona feel that there has been a significant change in Trevor. "He's more grown-up. He hasn't had a tantrum in the past year," Leona says. Trevor, now 17, took the initiative to enroll in a co-op program, which allows him to take high school and college courses and get hands-on experience at a shop. He will graduate in June 2017. "I'd like to go to college and get a career in mechanics one day," Trevor elaborates on his plans for the future.

"Two years ago it would have seemed unlikely that Trevor would attend college one day. His transformation is amazing. I feel like using the word 'miracle' when I think how far Trevor has come. He is a different person," describes Richie.

Trevor is also in much better health and has lost close to 100 lbs. after a new doctor changed and decreased his medication. Just like any other teenaged boy, Trevor enjoys playing video games and listening to music. "He's very handy and helps me with chores outside and around the house," Vince explains. The family also goes to their lakeside home to fish and drive on four-wheelers.

"Richie has been very supportive; taking me to appointments, the library, and any other places I had to go," Trevor says. Leona continues, "Richie has been great. He connected our family. Richie has been calling us regularly since Trevor moved to Ontario. He is a great listener and supports us by solving any problems right away. I feel like he is there for us."

The Family Centre will continue to support the family until Trevor turns 18.
The Family Centre exists to build healthy families in healthy communities. We can support you to navigate through change, raise healthy children, develop strong and healthy relationships, and heal from trauma.
For more parenting tips, click here.
Want to see more success stories of our clients? Read them here.