Ivor Dent Parent Group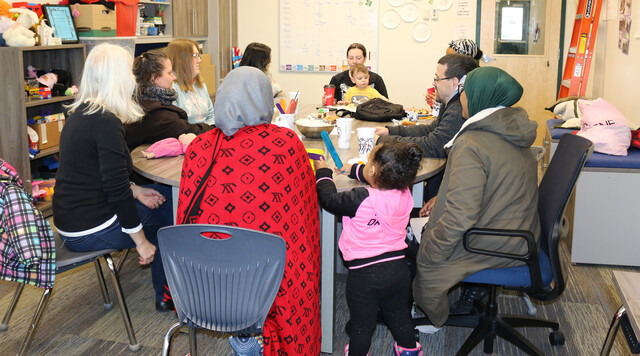 Like children, parents also need support. A parent coffee group at Ivor Dent — a kindergarten to grade 9 school in East Edmonton — aims to be that parental sanctuary.

Elaine Neher, a Roots and Wings Worker with The Family Centre, hosts the group for the parents of Ivor Dent every Tuesday. Parents can drop in to socialize, play games, get resources, and of course, drink coffee!
 
Elaine has noticed the parent group grow, with many of the same parents returning week after week. "It's a place where people get to show their skills or their creativity, it's a place for them to shine," shared Elaine.

The group offers many learning opportunities for personal growth and transformation. Elaine has been able to see that growth in many of the parents. "Parents who were reserved become advocates and encourage others when they become comfortable."

For some parents, the group is a place to step away and socialize. "I like the conversations, I don't get out much, so it's nice. We always have something fun to do. I just really like the company."

For others, it's a space to bring their children and relax. "My daughter is not in daycare, so it's nice to have somewhere she can come and play with other small children."
 
Through the group, some parents have been able to build lasting friendships. "My favourite thing about the group is knowing I can come and talk and not be judged. I've connected with people, and I have someone I can always talk to outside of the group."

Alongside the social interaction, the group has become a means of support for many of the parents. Elaine recalls one mother who was having a hard time with her child and felt like she was being judged. Another mother empathized with her and played with the child so that her mom could have a break. "I so appreciate the authenticity and how they care for one another," boasted Elaine.
 
Many of the parents have found support in each other when it comes to raising their children. "I always bounce ideas off of the other parents here. Like questions I have about raising a teenage daughter or whatever comes to mind with parenting," mentioned one mother. "I like to be able to talk and not feel judged. I like bringing up problems that I have at home, and I have everybody giving me advice," shared another.

"I love that they feel that they can share important things," stated Elaine. "I love the fun that we have in the room." Elaine loves to nurture the therapeutic and supportive environment built in the group.

In this group, many of the parents have learned that the ups and downs of parenting are universal. "All parents struggle with their kids in different ways and deal with it in different ways." Having diversity in the group encourages different views and insights into parenting. "This group has helped me to be a stronger parent. I've come a long way."
If you volunteer at or have a child that attends Ivor Dent school, you can drop-in on Tuesdays from 9 AM – 12 PM. Additional parent coffee groups are hosted at St. Alphonsus, John A McDougall, and Balwin schools. You can connect with the Roots and Wings worker at the school for meeting dates and times. The groups are open to caregivers whose children attend the school. 
Here are more caregiver resources for you: