16 Things to Do on a Staycation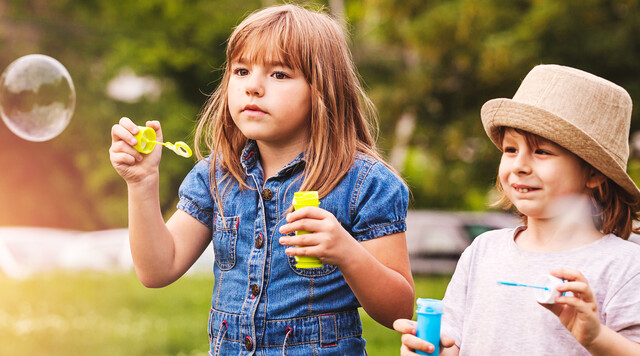 Are you looking for family activities for your summer vacation or weekends in and around Edmonton? Sure, festivals and such are cancelled, but there are still countless fun things to do during your vacation in Alberta. 
Here are 16 ideas to get you started with planning your staycation:
1. Visit local attractions
Some local attractions in Edmonton are still open, including University of Alberta Botanic Garden and Valley Zoo. Fort Edmonton Park will re-open on July 1. 
As restrictions change, we recommend planning your visit in advance.
2. Try geocaching
Geocaching is basically treasure hunting. There are over 4,000 geocaches in Edmonton, ranging from easy to difficult to find. All you need is to download an app, and you can start navigating your way to a geocache.
3. Explore the river valley
Did you know that the trails along the North Saskatchewan river are 160 kilometres long? There are 400 officially named parks and 875 additional green spaces along the way, so it's easy to spend a day exploring the river valley.
4. Enjoy a picnic
A picnic is one of the summer traditions that you can still enjoy. Pack your favourite picnic foods, a blanket, sunblock, frisbee and other activities, and head over to one of the green spaces such as Rundle Park or Legislature Grounds.
5. Check out playgrounds around the city
Your kids might enjoy visiting a new playground. Have you been to these playgrounds yet?
Kinsmen park has multiple play areas including two big slides plus picnic spots and trails
Jackie Parker park is massive with several play areas for kids of all ages. There is also a small lake, campfire spots, and pathways
William Hawrelak park playground includes little buildings like a general store on top of the usual playgroup equipment
Florence Hallock school playground equipment includes a zip line, a climbing structure, and a handful of covered picnic tables
Castle Downs playground is one of the largest playgrounds in Edmonton. It features two ship themed climbers, rock climbers, a sand area, and swings
Crestwood playground includes a square climber and  a chair zip line that is also suitable for younger children
Argyll Community's nature themed playground features multiple climbing structures, a sand pit, a playhouse, a bike course with small hills suitable for children, plus picnic tables
6. Go for a bike ride
A bike ride can be an excellent way to spend the day outdoors and unwind. You can plan your trip in advance with the help of bicycle maps.
7. Spend a day picking berries
Have you tried berry picking? It's another fun way to spend time outdoors and show your children how food grows. You can find local farms on this website. Check with the farm if you need to bring your own baskets. Dress appropriately as it can get hot and muddy. You might also want to bring sunscreen and water.
8. Organize a game tournament
For a day at home, you can try to organize a game tournament. Collect all the favourite games around the house, whether it's lawn, board, or video games, and see who in the family fares the best.
9. Arrange a craft day
Pinterest and other sources have tons of craft ideas for different ages and difficulties. You can create many crafts with items already in your house: try rainbow bubble snakes, bath bombs, or hatching dinosaur eggs.  Dollarama also has a great selection of craft supplies.
10. Set up a home spa
For a more relaxed day, you could set up a spa in your home. Gather up some face masks and mani-pedi supplies. Play calming music and light up candles to set a soothing atmosphere. 
11. Have a water fight
On a hot day, a water fight can be so much fun for the whole family. Collect all the hoses, buckets, and water guns you can find. 
12. Visit Elk Island National Park
If you enjoy outdoors, Elk Island National Park is worth the 35 minute drive. The national park offers picnic spots including fire pits, geocaching and hiking, a playground, and a beach at Astotin Lake. You can also try to spot bison.
13. Go camping
Camping can be a great way to slow down. There are many wonderful campgrounds in Alberta.
If you do have a tent but aren't up for the hassle of a camping trip, you could set up the tent in your backyard. 
14. Spend a day at a lake
There are a few lakes close enough to Edmonton for a day trip, including Ma-Me-O beach on Pigeon lake and Aspen beach on Gull lake.
15. Enjoy a meal from a local restaurant
Edmonton has many wonderful locally-owned restaurants and bakeries. Why not pick up a meal or a coffee and dessert from one of them (or use their delivery service)?
16. Make a trip in Alberta
Between mountains, lakes, prairies, and desert badlands, Alberta has a lot of stunning nature to see. While we can't explore the world, you could make a trip closer to home and visit Calgary, Drumheller, Sylvan Lake, or the Rocky Mountains.
Please check local restrictions and recommendations before you travel outside the city. 
PLUS: Some summer camps and programs are back on, including:
Green Shack Program - Get active and join in on games, sport, crafts, music, drama and special events! A complete list of activities and special events are posted on the side of Green Shacks each week.
Kids on Track Youth Summer Camp - Weekly camps run from Monday to Thursday for ages 11 to 17 starting on July 5th. You can pick and choose the days you'd like for your youth to attend. Every day will be different - youth are encouraged to attend as many as they like! The program is $10 a day with a "work with what you can pay" option available. 
TELUS World of Science Online Camps - All you need for these week-long camps is a desktop or laptop computer with an internet connection. Your child will join our small group sessions virtually and have fun exploring and experiencing space, coding, engineering, and so much more STEAM fun!
Shiloh Overnight Youth Camp - Weekly horse or bicycle camps starting in July for ages 7 to 17. $50 with low-income options available.
T.A.N.G. Summer Camp - One-week full-day summer camps for youth aged 11 to 15. Offered both at the ASSIST Downtown and Southwest Office locations during July and August. Includes activities such as ice-breaking games, crafts, fun field trips, interesting workshops, volunteering in the community, and much more! $100 per week, with a discount available for low-income families (Notice of Assessment required).
Additional resources: